A new breastfeeding story!
Lauren is a very experienced breastfeeding mother. She joins us today with baby Luke today to talk about her breastfeeding story. She has nursed four children! When you have more than one child it is important to remember that each breastfeeding experience will be different. Each breastfeeding journey is a unique journey.
In her breastfeeding story you will hear how some of her babies were easy to nurse and some were more challenging. Her first two were the easiest so it has been a surprise that the babies have gotten harder, not easier.
Lauren comes from a breastfeeding family, she and her brother were nursed so she knew she wanted to parent her babies this way. Breastfeeding can become a way of parenting, not just feeding your baby.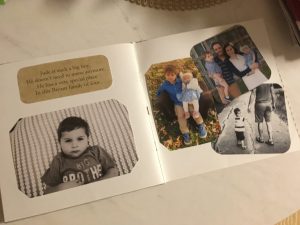 Each baby is so different!
Listen as she talks about how true this is! Lauren's breastfeeding story shows us how even if breastfeeding isn't "perfect" it can work! Here how each baby started their journey and learn about different ways to wean. Baby number three had a tongue and lip tie which needed to be addressed. Once they were released, nursing got so much better!
This is Jude's weaning book that Lauren made. It shows Jude's journey from his birth to when he was three. This was made for Jude to be able to look through and use. What a wonderful gift! We don't hold you to these standards! I have no weaning books (or honestly any fancy baby books) for either of my children.
Getting help is important
Lauren reached out to me because she was struggling with nursing Luke and pain. We still haven't gotten the pain totally under control but she will keep nursing this little one.
Resources
Another Podcast about tandem nursing and nursing during a pregnancy
A final Podcast about introducing solids
Hard to find! Hilary Flower's Adventures in Tandem Nursing
For any breastfeeding questions: kellymom.com
Podcast: Play in new window | Download | Embed
Subscribe: RSS