Jessica's Working and Breastfeeding Story!
We are adding a new type of podcast to our collection beginning with our new intern Jessica! We have been having mothers share their breastfeeding stories but now we want mothers to hear from other mothers about the realities of going back to work while you are breastfeeding. Jessica's working and breastfeeding story is worth the listen as you consider what needs to happen before you return to work.
Jessica was very lucky that she had a lot of time off, five months, compared to most families in the USA but it was still challenging. Listen to what was hard and what made it easier. Read our blog about feeling safe while breastfeeding or pumping. If you are struggling with breastfeeding, worried about returning to work, or back at work and struggling, we can help! Contact Barbara, barbara@bfcaa.com or 734-975-6534. Our clinical experience combined with great communication skills makes difference!
You can also listen to Jessica's Breastfeeding Story to hear about how her breastfeeding journey started. Jessica struggle with low milk supply but then had some trouble with plugged ducts. With a little help and hard work, Jessica achieved her breastfeeding goals! She definitely attended our free drop in support group and asked a lot of questions and really loved the mother-to-mother support.
Here is a place to go to get our free breastmilk or formula, as mentioned in our podcast, Infant Feeding Calculator! This free PDF allows you to feel confident that you are feeding your baby just the right amount while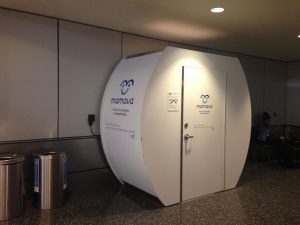 you are away from your baby. There is so much miss-information on how much baby's need to eat. Some people keep increasing how much they are feeding their babies which can lead to obesity later in life.
The FDA has a nice page on choosing a breast pump. At the Breastfeeding Center of Ann Arbor we are LOVING the Spectra 2. If your insurance company gives you options for pumps, we say, yes!
Finally, breastfeeding or pumping pods! Here is a site that lists locations of places to breastfeed or pump at airports and my photo of a pod at the Seattle Airport on a recent trip!
Podcast: Play in new window | Download | Embed
Subscribe: RSS