Nursing in public?
Didn't we all decide that nursing in public was fine? Apparently not! There are still so many people who get their panties in a bunch when they see a family breastfeeding in public!
Jessica and Barbara discuss the latest study on nursing in public. This article concerns the images of women nursing in public and how they are almost always of a woman by herself, not in a social situation. This implies that woman SHOULD nurse alone, whether they are at home or out and about. Where are the images of women just living their lives and nursing out in public? Just part of the social norm?
In the past Barbara wrote a blog about working and breastfeeding and asked the question, is nursing in public dangerous?
The two of them also review an article, "Ten tips for breastfeeding in public" Here are their suggestions: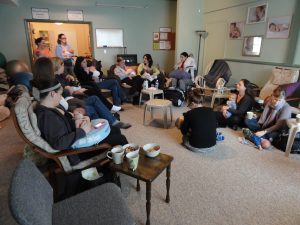 1. Know your legal rights
2. Practice at home in front of a mirror
3. Choose clothes that you feel comfortable in
4. Use a sling or a wrap
5. Choose an easy active bra
6. Pick your spot
7. Turn away when you latch
8. Consider a cover up- Our note: ONLY IF YOU WANT TO!!!
9. Smile!!!
10. Plan your response
Barbara and Jessica also get real about their own experiences with nursing in public. Do people feel safe? What are the risks? Does the public have a mother's best interests at heart.
Barbara could not find the photo of the woman nursing her baby in the town square (she'll keep looking for it!) but here are some other images to check out.
Podcast: Play in new window | Download | Embed
Subscribe: RSS