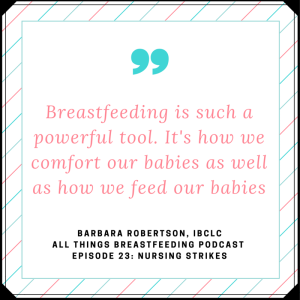 This week on the podcast we discuss nursing strikes. What is a nursing strike? How should you deal with a nursing strike? Also, find out what product Barbara and Barb are really excited about!
Podcast: Play in new window | Download | Embed
Subscribe: RSS
Show Notes:
Check out Barbara's video on paced bottle feeding:

In The News:
The Breastfeeding Center of Ann Arbor is now selling the Spectra S1 and S2 pump! We have replacement parts for the pump including larger flange sizes as well!
Thank you so much for listening! Please consider rating and leaving a review on iTunes if you like the podcast. We also would love your feedback! Any topics you want us to talk about? Do you want to share your breastfeeding story? You can email Barbara at barbara@bfcaa.com OR leave a message on the Facebook page!
~Happy Breastfeeding!