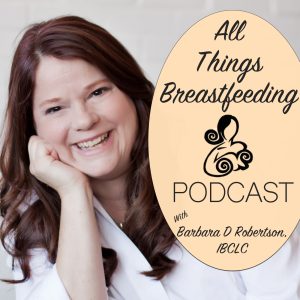 This week on All Things Breastfeeding, Barbara and Barb talk all things pumping! Whether you are a part time or full time pumping mother, we have information and tips to share with all pumping moms alike. Sit  back and listen while you pump….or breastfeed. Either way-Enjoy!
Podcast: Play in new window | Download | Embed
Subscribe: RSS
Show Notes:
77% of mothers need a larger size breast shield!
Reference to this study (web link not available):
Meier, P., Motyhowski, J., & Zuleger, J.  (2004).  Choosing a correctly-fitted breastshield for milk expression.  Medela Mesenger  21, 8-9.
FDA Government website for breastpumps. 
What is the WHO code anyway? Learn more here.
How can we support exclusive pumping mother better? This website Exclusively Pumping Breast Milk is filled with wonderful stories, and information about exclusive pumping.
Spectra 2 update: Barb has since this show contacted Spectra Baby USA and had a new pump sent to her within 3 days. Barb will also update on a future show about her experience with Spectra customer service.
In the News:
Breastfeeding photo shows hypocrisy of suggesting woman should breastfeed in the bathroom. 
Thanks for listening today! Please leave a review on iTunes if you enjoy the show and share with others!
Be sure to check out The Breastfeeding Center of Ann Arbor website, including the Working and Breastfeeding Resources page. 
Also, check out our new You Tube channel-we have a lot of great videos to help breastfeeding mothers!
Happy Breastfeeding!