Breastfeeding book groups?
What on earth do I mean by breastfeeding book groups?
So, fall of 2019 I had just finished helping Lisa Marasco with some final edits of her and Diana West' new edition of Making More Milk, 2nd Edition. The holidays were coming and I ordered a copy of the book for each of my interns. I thought to myself, we should read this together as a book group.
Let me explain a few things here. First of all, I am a voracious reader. Have been my whole life. I read 1-4 books per week. However, what I almost exclusively read is fiction. I read Pulitzer prize winner to the worse chick lit. I don't read a lot of non-fiction.
Secondly, I love book groups. I spent the first 31 years of my life reading alone. I had no one to talk to about what I was reading or had read. In 1995 I boldly asked to join a book group with someone I liked very much but didn't know very well. 26 years later I am still part of this group and have read some of the most challenging books of my life. About 5 years ago I did start a book group that started out reading fiction but quickly moved into books about self transformation which are non-fiction. Because of my commitment to the group, I almost always would read the book.
Professional Breastfeeding Book Groups
Back to fall of 2019. I knew I wanted to read this new amazing book very closely so I could best help my clients. But when I thought, we should read this (my interns and I) as a book group it occurred to me that many others might like to join us as well. I even proposed the idea to one of the authors, Lisa Marasco who is a good friend of mine in November of 2019. She thought the idea was interesting. I tucked this thought aside and moved on with my life.
COVID Ruins Everything
My husband was an early predictor of the tragedy COVID would bring to us all. Toward the end of January he predicted we were all in for some serious trouble and would be needing to isolate for a long period of time. I was thinking of until June.
Ha! But this meant my consultations and teaching would be greatly impacted so it was time to get into gear. Necessity is the mother of invention! I reached out to Lisa again and she was in for the book group. Diana West was struggling with some health issues and other commitments so she gave her blessing but was not able to participate.
I was already doing a hybrid model for my 90 hour professional course and we had just moved our courses to a new online education system, Learning at The Breastfeeding Center of Ann Arbor on Thinkific. I knew Zoom was going to become everyone's new best friend ASAP so I imagined a book group that could be for professionals BUT also for parents. Making More Milk, 2nd Edition is written for families but it is also the best resources on increasing breastmilk supply for professionals.
Just FYI, I could not have done this without the support and guidance of my then intern, now colleague, Jessica Beemsterboer. She did research, help trouble shoot, and gave me the confidence that I could do this!
I created a 7 week course using my hybrid model. We would read assigned chapters, I created chapter summaries for each of the chapters. We also had supporting materials, and then once a week we would meet on Zoom with Lisa Marasco. She was able to attend 5 out of 7 of our meetings.
Lisa and I would discuss each chapter, clarify points and emphasizing what we felt was important, and then we would take Q and A. We meet for 1.5 hours, recorded the meeting, and then posted it on Learning at the Breastfeeding Center of Ann Arbor on Thinkfic so if someone could not attend our live session they could listen to the recording later.
This was a hit! We had over 70 people join us!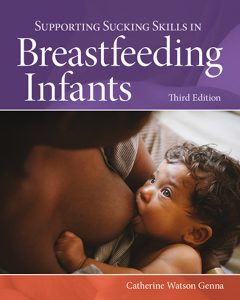 It became clear in May that COVID was here to stay so I reached out to another good friend, Cathy Watson Genna about doing a 10 week book group with her book, Supporting Sucking Skills, another critical professional breastfeeding book. I did that book in fall, 2020 and had over 100 attendees!
The Breastfeeding Center of Ann Arbor is now rocking it out with Nancy Mohrbacher and her new Edition of Breastfeeding Answers, 2nd Edition. We have 130 attendees for this group!
Self Study- On Your Own, At Your Own Speed
Now we are offering both Making More Milk and Supporting Sucking Skills as self study groups. You will have access to all the supporting materials and then recordings of our Zoom meetings. Obviously not the same as attending live but we sure dive in deep!
Listen to this podcast to get a taste of what we did for Making More Milk. This was recorded last July when we were sure what direction we were going but it is interesting how a bit of creativity and will power get something really cool finished.
We hope you might join us for one of these self study groups or one of our live book groups in the future!
Podcast: Play in new window | Download | Embed
Subscribe: RSS