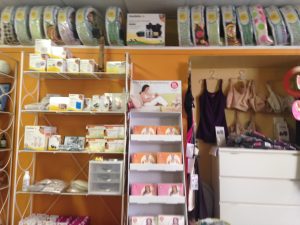 Store hours: Monday and Wednesday, 12-4, and Fridays from 10-4 and always by appointment! We know our store hours are extremely limited so we are happy to set up a time that works for you for a bra/tank top fitting or pump sale.

When looking for breastfeeding supplies, whether it is a nursing bra or a breast pump, you want to know that the people who are helping you know what they are talking about!
Let us help you! Our staff understands breastfeeding and can help you find just the right products for you. We will ask the right questions to make sure your bras and tank tops fit, not just now, but for the future. We know how to fit bras!
Are you an unusual size? We have you covered! We specialize in larger cup and band sizes.
Come and see the difference professionals can make.
Like our facebook page!
Medela and Ameda Breast Pumps
When you buy a pump from us, you may get reimbursed by your insurance company! We not only have the lowest prices available, but every pump sale comes with a pump demonstration and we will fit your breast shields. (Yes, they come in different sizes!!!) We want you to be comfortable and get the most breast milk possible.
We carry: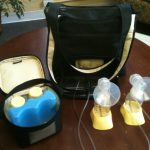 Medela Pump In Style Advanced Shoulder Bag
Medela Pump In Style Advanced Backpack
Medela Swing Electric Single Pump
Medela Harmony Hand  Pump
Ameda Purly Yours Ultra
Replacements parts for most Medela and Ameda Pumps
If we are not selling a pump you have heard of, you might ask us why.  We only sell products that we feel can strongly stand behind.
Nursing bras and Tanks- A size for everyone!
Do you know about 80% of women wear the wrong bra size?  No wonder women are uncomfortable and have back aches!  When you are pregnant or breastfeeding, you don't have time for that kind of nonsense.
At the Breastfeeding Center of Ann Arbor we pride ourselves on helping mothers get just the right type of bra or tank that fits just right.
We have the widest variety of nursing bras and tanks tops in Southeastern Michigan!
When being fitted for a bra, we want you to feel comfortable and relaxed, never uneasy or anxious. It should be an experience you look forward to, not one that you dread.
Large band and cup sizes!
Everyone deserves a good fit! Our sizes range from 28 A to 52 DD and 28 to 52 F, FF G, H, J, K & L.
We have comfy nursing bras, more supportive ones, strapless bras, exercise bras, sleep bras, and hands free pumping bras.
With over 25 styles to select from, we want you to have a perfect fit! Why settle for anything less?   Our prices bet anyone's around and you get the bonus personal, knowledgeable service.
Some of our brands:
Bravado
La Leche League
Medela
Melinda G
Simples Wishes
Royce
Glamourmom
Nummies
And more!
Working and Breastfeeding and Other Products:
Hands Free Pumping Bras
Milk Trays
Freezer Bags
Storage Bottels
Herbs for increasing or decreasing your milk supplies
Replacement breast pump parts for Medela and Ameda
Disposable Breast pads
Cloth  breast pads
Lily Padz
Breastfeeding pillows
Breastfeeding books
And much more!
Breastfeeding should be free!
But sometimes reality gets in the way of this ideal. If a mother and baby are having problems with breastfeeding, some money might need to be spent. There are so many breastfeeding products on the market it can be confusing for parents. Which ones should they choose? I say, do some research on-line. Then go and check out what there is. In our store, we offer only high quality products that have stood the test of time and gained the respect of mothers and lactation consultants.
In addition, when a breastfeeding mother returns to work, she will need a pump and some bottles. We have put together a collection of products that we hope clients will love as much as moms have before them.
Come and relax in our store! Enjoy the expert, personal attention that is sometimes needed in choosing just the right product for you. All of our staff have been trained to assist a mother to pick out exactly what she needs. Also, the staff has earned the Medela bra fitting certification, so you can be assured that the bra will be a good fit and feel comfortable as your body continues to change.
Feel the difference of quality services and competitive pricing!