People often ask me what are the differences between breastmilk and formula?
The short answer: a million. The long answer: are you ready for a whole lot of science?
Often I will write about the benefits of breastfeeding but often people will say, "but I was formula fed (or I formula fed my child) and I (they) are fine!" But are they really? For one thing, I think we have to turn this whole "benefits of breastfeeding" on its head.
We have forgotten that the normal, biologically appropriate, way to feed a mammal is to nurse. We are so used to formula feeding that we don't remember that using formula is a feeding intervention. NOT the normal was to feed a baby. Just because it is common does not mean it is biologically appropriate. So breastfeeding is the norm and formula feeding is the intervention. I believe that we should be talking about the risk of formula feeding when we talk about the differences between breastmilk and formula, not the wonderful benefits you get when you breastfeed.
Risk of formula feeding
How does that title look? But that's what it is. Except in very few cases, formula feeding takes away from the built in, the perfect composition of breastmilk, you get from nursing that is going well.  It does not add anything beneficial. The "miracle" of science is actually taking away from the true miracle of breastmilk. Each mammal's milk is tailored for that species.
As I have said many times in the past we are very grateful for the invention of artificial baby milk. When we do not have enough breastmilk it is truly a life saver. But it is now used so often that we forget it was invented for when we didn't have enough breastmilk. (An aside: We do realize that many families are struggling with breastmilk production and need to use formula. We are not talking about that. We are addressing our cultural miss-conceptions about formula feeding.)
When there is money to be made, it will be made
Formula companies are billion dollar businesses. Don't forget that. They have tried to make their products as much like breastmilk as they can but they can't actually achieve this goal even after decades of trying. There are still things in breastmilk that we aren't sure what they are or what they do. Formula companies are almost all owned by pharmaceutical companies. Sure, they make their couple of thousand dollars in that first year but then because of the KNOWN health risks for formula feeding they know they will make hundreds of thousands of dollars when these babies grow up.
Does this sound like a conspiracy theory? Yes, but it is also true. Formula companies do not seem to be interested in healthy bottle feeding either. Why is paced bottle feeding not being talked about? Healthy amounts for the baby to eat? Almost all formula fed babies are being overfed! In China, formula companies are still using vanilla flavoring to make their products taste and smell better! Even though they said they wouldn't!
Environmentally, this product is hard on the earth. If families are directly breastfeeding this has a very low impact on our resources.
If you want to more about what this is costing us a society please read The Burden of Suboptimal Breastfeeding in the United States: A Pediatric Cost Analysis by Melissa Bartick and Arnold Reinhold from Pediatrics, 2010, Volume 125, Issue 5 http://pediatrics.aappublications.org/content/125/5/e1048
Here is a very partial list of some of the risks.
Increased risk of:
Benefits for infants

Excellent evidence for increased risk of:

Respiratory infection
Gastrointestinal infection
SIDS
AOM (Acute otitis media)
NEC (Necrotizing enterocolitis)
Dental caries
Malocclusion
Leukemia

Moderate evidence for increased risk of:

Asthma
Obesity
Diabetes
Higher intelligence

For parents:

Excellent evidence of increased risk of:

Breast cancer
Ovarian cancer
Lactational amenorrhea

Moderate evidence of increased risk of:

Type 2 diabetes
Cardiovascular disease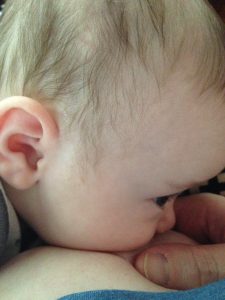 As my friend Joe told me once, I don't need science to tell me breastfeeding is better for my baby. I can just see that it is. Amen to that!
If you are a science person, here are some sites that have all the studies for you: