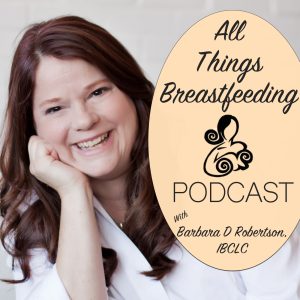 Postpartum depression can happen to any women, no matter how much she wanted her baby, no matter what her socioeconomic status.
This week on the podcast, Barbara and Barb talk about postpartum depression (PPD). A very common occurrence in many woman after they have a baby, yet not talked about often enough. We were inspired to talk about this subject after doing a podcast with Michelle. She had suffered through a serious episode of postpartum depression after the birth of her first child and didn't reach out for help. We talk about why she didn't reach out and how it was for her.
Postpartum depression is very common. As many as 1 in 5 mothers will become depressed after having a baby. My dear friend and colleague, Kathy Kendall Tackett, discusses this on another podcast.She discusses risk factors, where to get help, what might help, key symptoms to look for, and what help.
Many of us feel shame. I know I did after my first child. I had wanted a baby so badly and here I was, feeling trapped, scared, exhausted, and depressed. I had some major risk factors. I had a strong history of depression. I didn't have the birth I had planned on. My son was miss-diagnosed with a heart condition so I had been scared out of my wits, and my son ended up in one hospital and me in another. What a mess! You can listen to our story here.
If you feel you might be suffering from postpartum depression, please talk to your health care provider to find local resources for yourself. Talking is one of the best relievers of postpartum depression but you might need more help such as a therapist or the temporary use of medication to get things under control.
Here are some great resources for more information:
Edinburgh Postnatal Depression Scale
Podcast: Play in new window | Download | Embed
Subscribe: RSS