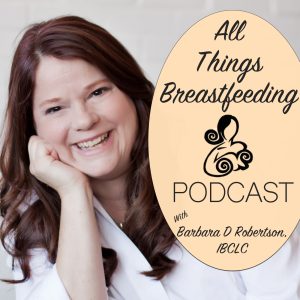 Nipple Shields! What are they and why might a breastfeeding mother need this tool? Barbara and Barb discuss all things nipple shields.
Podcast: Play in new window | Download | Embed
Subscribe: RSS
What is a nipple shield? Here's a great picture of one in use! Note the milk in the shield!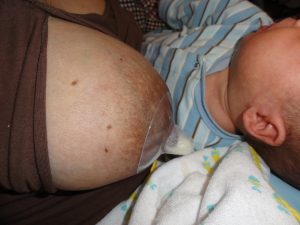 Resource of the Day: Kellymom has a lot of great evidence based information about breastfeeding. Check out the link to find out more about nipple shields.
Check out this article that includes information about the use of a nipple shield in pre-term babies. Here is the reference for the full study Although to gain access to journal you must be a subscriber.
Meier PP, Brown LP, Hurst NM, et al. Nipple shields for preterm infants: Effect on milk transfer and duration of breastfeeding. J Hum Lact 2000;16:106–114; quiz 129–131.
In the News: The art of breastfeeding photography
What do you think about breastfeeding photography. We love it! Check out these beautiful photos of normal moms united in breastfeeding and celebrating their postpartum bodies!
Breastfeeding in photography goes back until the beginning of time. Here are some amazing photos of art and paintings of Mary nursing baby Jesus. 
Barb had professional photos taken of nursing her youngest Nolan. Here are a few of them taken by local photographer, of  JW Photography