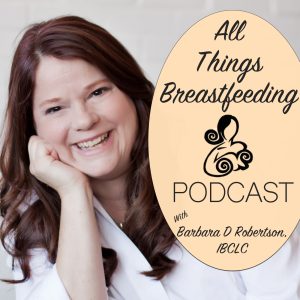 This week on the podcast Barbara and Barb speak with expert Dr. Alison Hazelbaker about tongue tie. Dr. Hazelbaker's original research on tongue-tie, done in 1993, has changed clinical practice both in the USA and abroad. We discuss the new thoughts on tongue tie and treatment options.
Podcast: Play in new window | Download | Embed
Subscribe: RSS
Visit Dr. Alison Hazelbaker's website to learn more about her work and practice in Columbus, Ohio.
To learn more about the ATLFF tool  (Assessment Tool for Lingual Frenulum Function), Dr. Hazelbaker offers training programs.
Nancy Mohrbacher's thoughts on the tongue tie epidemic.
Most recent published study from the American Academy of Pediatrics.
You Tube Video's from Melissa Cole for post-frenotomy care ideas. This is also another great video.
Good sources for accurate breastfeeding information:
United States Breastfeeding Committee
International Lactation Consultant Association
In the news:
Elle Magazine subscriber only breastfeeding cover.
Thank you so much for listening today!
We would LOVE if you could leave a review on iTunes. We want to know what you think of the show!