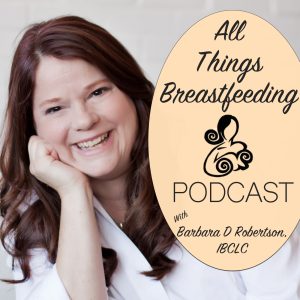 This week on the podcast, we discuss breastfeeding the newborn baby. How much should a newborn baby breastfeed? Barbara and Barb dive into what is normal and how to tell your breastfed baby is doing well. This is a great episode to share with new mothers and expecting mothers!
Podcast: Play in new window | Download | Embed
Subscribe: RSS
Show Notes:
Check out Dr. Jack Newman's video that demonstrates good active nursing with deep chin drops.
Diaper Diary-good resource for keeping track of baby's diapers.
IV fluids and newborn weight loss study.
Also check out this study published in Clinical Lactation.
This is a picture of Barb's first son Nolan just after birth after receiving IV fluids for over 36 hours during labor. His looks extremely puffy!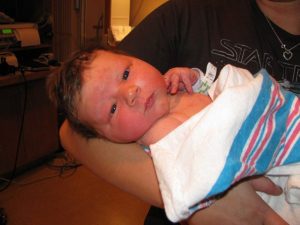 In the News:
This mother was photographed nursing her toddler while using the bathroom in her own home and social media went crazy! Where is the craziest place you have breastfed?
Thanks so much for listening today and please share this podcast if you think others will enjoy as well. We also would love to hear feedback. Please leave a review on iTunes.
If you haven't checked out the iLactate phone app-make sure you do! A must have tool for breastfeeding mothers returning to work!
Have a wonderful day!