Breastfeeding Missions? What does this mean?
I, Barbara Robertson, want to make Breastfeeding Missions a reality! I have always worked on giving back to the community. I have been hosting a weekly, free, breastfeeding support group for over 10 years, volunteer when I can for her local WIC office, and offer a sliding scale for her consultation services for families who need it. I am still a La Leche Leader filling in where needed. This feels like it is not enough. I want to do more! I feel I could do so much more for Washtenaw County, Michigan, the USA, and the world!
We all know that there is so much miss-information about breastfeeding which is prevalent in the field of breastfeeding. I also feel that having good communication skills are critical to be able to help families successfully. I have created a 90 hour course for lactation professionals and has been teaching around the country for years working on spreading the word.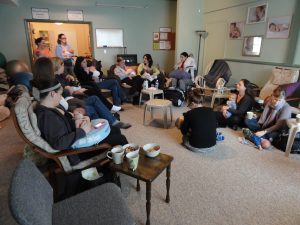 I want to be able to take great breastfeeding trainings to not only the health care providers but also to any community member who is interested in helping to support breastfeeding families. I love the idea of being able to help give back the art of breastfeeding to the community by empowering communities with accurate medical information and how to communicate successfully.
I think this can be done but I need your help. I have an idea for you…
Envision me being able to travel around Washtenaw County, Michigan, the country, the world, spreading truths about breastfeeding and how share information effectively with families and other community members.
This week I am reaching out to YOU our audience to get feedback on this beginning of an idea! Breastfeeding missions! I think this is a new and exciting idea!
We have a seed. Can it grow? Listen to our latest podcast and let us know what you think. Do you feel this could be successful? Let us know what you think!
Podcast: Play in new window | Download | Embed
Subscribe: RSS
Ways to contact us:
Barbara:
barbara@bfcaa.com
On facebook: The Breastfeeding Center of Ann Arbor