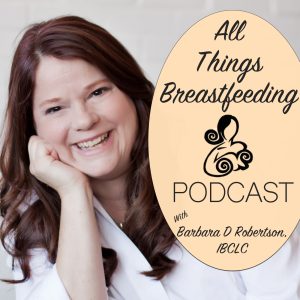 This week Barbara and Barb discuss nipple pain- one of the biggest concerns and problems that breastfeeding mothers face. Should breastfeeding hurt? Should it be completely pain free? We will sort through the facts!
Podcast: Play in new window | Download | Embed
Subscribe: RSS
Show notes:
According to Best for Babes,"The second biggest concern/complaint among new mothers is that breastfeeding hurts."
Getting a deeper latch is important! We really like this animated latch video.
Laid back breastfeeding-Suzanne Colson
Tongue ties and lip ties can affect breastfeeding, and cause nipple pain! Check out this link and this link for more information.
Vasospasm is another big cause of nipple pain.
Resource of the day: Find a good IBCLC
Here is a good article on the truth about lanolin cream.
Here's an interesting article about the use of All Purpose Nipple Ointment (APNO).
This study showed no significant difference in the use of lanolin vs. APNO
In the News:
Breastfeeding almost killed this woman!
Thank you for listening! If you find the information on this podcast valuable, please SHARE!
We are now on iTunes and Stitcher. You can listen anywhere on your tablets, mobile devices, and in your car even!
Please leave a review on itunes here!
Have a great day and Happy Breastfeeding!