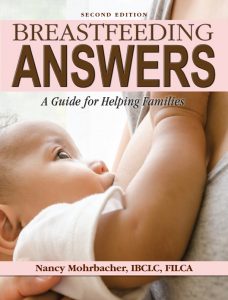 In 2020 Nancy Mohrbacher published her latest book, Breastfeeding Answers, 2nd Edition. We jokingly call this book BA2 and it is one of the most important books in the field of lactation.
I was honored that Nancy was willing to co-host a professional book group with me. I had hosted two other book groups before, Making More Milk, 2nd Edition with Lisa Marasco and Supporting Sucking Skills with Catherine Watson Genna, and this format had worked really well to help me (and apparently many others!) to read the other entire book. Having a book group allowed for time discuss the findings and implications of the material, and then hopefully apply the new information into practice.
Nancy and I sat down the other day and recorded a podcast about some major shifts that have recently happened in the field of lactation that are included in her new book. One of the great things about BA2 is that Nancy has done all of the research so we don't have to! This is so convenient for busy lactation professionals!
Here are the seven updates to the field of lactation based upon the latest research. To get the full story listen to the podcast below.
1. The research of neonatal jaundice has changed (Hint: it is not all about the poop!)
2. Rethinking tongue tie assessment. Function and symptoms are key.
3. How and when to introduce hyper allergenic foods to babies.
4. The mammary microbiome.
5. Parent obesity and how it plays into breast/chestfeeding success.
6. Prenatal hand expression. Thank you Jane Morton for helping to push this great technique forward!
7. Inclusion of LGBTQ+ folks and their needs.
If you want to know more, listen to our podcast below. If you are intrigued by what you might find in Breastfeeding Answers, 2nd Edition, if you want to connect with other lactation professionals in this time of isolation, if you need 36 L-CERPs, then you might want to join our book group with Nancy and I spring of 2022.
36 L-CERPs $299 early bird, $350 regular price
Just for fun, no CERPs, $220 early bird, $280 regular price
Early bird extended to February 18, 2022!
Dates for the group:
The dates for this book group are:
Session 1: Sunday, March 13, 2022 2:00 PM EDT
Session 2: Sunday, March 20, 2022 2:00 PM EDT
Session 3: Sunday, March 27, 2022 2:00 PM EDT
Session 4: Sunday, April 3, 2022 2:00 PM EDT
Session 5: Sunday, April 10, 2022 2:00 PM EDT
Session 6: Sunday, April 24, 2022 2:00 PM EDT
Session 7: Sunday, June 5, 2022 2:00 PM EDT
Session 8: Sunday, June 12, 2022 2:00 PM EDT
Session 9: Sunday, July 10, 2022 2:00 PM EDT
Session 10: Sunday, July 17, 2022, 2:00 PM EDT

Each session consists of a 2 hour Zoom meeting where we will discuss the materials and answer questions. Before each session you will read the assigned chapters (each session has several chapters to read so be ready) and any supporting materials, and after our Zoom meeting you will take a quiz at the end of each session in you have registered for CERPs.
You must buy the most recent edition of the book! This is Breastfeeding Answers, 2nd Edition by Nancy Mohrbacher.

The Zoom meetings will be recorded so you have the flexibility of missing a session if needed and then listening to the recorded Zoom meeting at your leisure on Thinkific.
You will have access to all the materials until September 1, 2022.
Podcast: Play in new window | Download | Embed
Subscribe: RSS