What is your breastfeeding support network?
Who do you need in this team?
Partners
Partners are a critical player in your breastfeeding support network. A partner can make or break a breastfeeding relationship. Not necessarily because they don't support breastfeeding but if you are struggling with breastfeeding, this struggle can be hard to watch if your partner is suffering. Helping make sure your partner is educated about how breastfeeding works and having them know who to contact if you are having trouble with breastfeeding. Here is a podcast about partners so you can learn more.
Family and friends
Find out who is going to be supportive of your goals? Who is suspicious of breastfeeding? Try to hang out with
Health Care Providers
Let's start with the health care professionals. If you are creating your breastfeeding support network prenatally think about picking out a breastfeeding friendly midwife (they almost always are!), your OB, and maybe, if this appeals to you and/or you can afford this, a birth or postpartum doula. We love doulas. Does your doctor or midwife talk to you about breastfeeding before the baby comes? If so, this is a good sign. Think about where you be birthing. Do you have options as to where you birth? If so there is a some research you could do to make a good choice.
The baby's doctor is also critical. Is your doctor really a believer in breastfeeding? Many doctors still believe formula is just about as good as breastfeeding. Ask them if you run into breastfeeding problems what do they do. Most doctors are not breastfeeding specialists. If you are struggling with breastfeeding they should refer you to an IBCLC.
An IBCLC (International Board Certified Lactation Consultant)
Having a great IBCLC programmed into your phone in case your need help. Many, many people do struggle with breastfeeding. Often breastfeeding can be hard and having some help can make all the difference. Ask around! We are now doing virtual consultations so we can see anyone, anywhere in the world as long as you have a good internet connection.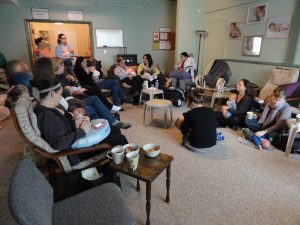 Support groups
This is where you are able to hang out with people that are as obsessed with babies and breastfeeding as you are! We love La Leche League (many people worry these folks are too out there for them but check them out! Each group has its own flavor.)
So, think about who is in your network Let us know if you can help! barbara@bfcaa.com.
Podcast: Play in new window | Download | Embed
Subscribe: RSS