Nipple shield survey results!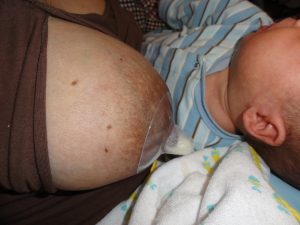 Our nipple shield survey is discussed in this podcast. We had a whopping 4500 families and 500 lactation professionals fill out the survey! We got so much interesting information from this survey. Of course there are some limitations from the information we gathered. First of all, this survey was only distributed from Facebook. I put an announcement on my Facebook page, two professional pages, and three colleague's Facebook pages. This means our reach went as far and our reach! Secondly, people who are viewing these pages are people who are pretty serious about breastfeeding to be looking at this pages.
What did we find?
Some of the things we found surprised us! One of the most surprising pieces of information was that many families use nipple shields far longer than the professionals who completed our survey imagined. Quite a few families used a nipple shield for over a year. The longest professionals thought nipple shields would be used was a few months at the most. More than 10% of our families used nipple shields for over a year. No professionals thought families used them for this long.
One of the things that was discovered, and this was no surprise, is that nipple shields are given out to frequently and many families have a negative experience with them. We found that families were being given a nipple shield in the first day or two of the baby's life! We know this is not optimal. There are no clear standards as to when and how to use this tool for lactation professionals. This lack of standards is hurting families and causing professionals to be confused.
We also found there was a lack of confirming the nipple shield was an appropriate tool (doing pre and post weights, making sure the size of the nipple shield was optimal for families, assessing for improved comfort) and then follow up care to help families wean off of the nipple shield. This lack of follow up seemed to have causes many of the issues families had with nipple shield use.
Possible next steps
This survey reiterated the need for standards for the use of nipple shields. Professionals need clear guidelines as to when using a nipple shield might be an appropriate intervention, how to teach families how to use it, and how to wean off of the nipple shield. Follow up care is crucial for any intervention but it appears it is critical for use.
Final thought on nipple shields
It was clear that nipple shields "save breastfeeding relationships". This was a predominant theme throughout our survey results. Viewing these as a transitional tools (as I say, like training wheels on a bike!) that families should out grow. In the future, hopefully standards will be created for professionals so this tool can be used more effectively for shorter periods of time. However, if you are using a nipple shield, having an IBCLC help you will greatly increase your odds of breastfeeding success.
Podcast: Play in new window | Download | Embed
Subscribe: RSS