D-MER?
What is D-MER? This is a condition that every family should be aware of, not because it is going to happen to you. It is actually quite rare. But because when it does happen to a breastfeeding family the mother can feel like she is going crazy. So please listen to this podcast so you can help other families!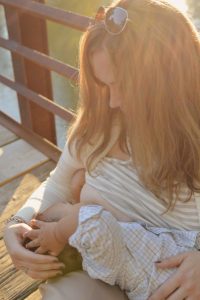 D-MER stands for Dysphoric Milk Ejection Reflex. Let us explain. When a mother starts to breastfeed (or pump or hand express) she may feel a wave of emotion that is not pleasant. These feelings can come either right before, or during, her oxytocin surge, the let down. Most mothers feel a sense of peace, calm, or relaxation when they have an oxytocin surge. However, with D-MER she may feel despondency, anxiety, and/or aggression. For despondency, these feelings can range from a surge of mild sadness to extreme depression. For anxiety, a feeling of restlessness might come up or maybe panic or dread. Anger is the least likely of the three emotions and it again, it can present in a range from irritation to rage.
What to do about D-MER?
Sadly, there is not much to do about this rare condition but letting families know that what they are feeling is real and this can provide relief and validation! Knowing that this is a temporary condition is also helpful. These feeling usually last for a few seconds to a minute or two. This condition also tends to go away after a few months as the hormones settle down. Only very rarely does this continue beyond 3-4 months. Again, once mothers know what is gong on they often can ride out the waves and continue to successfully breastfeed.
If you or a family you know are experiencing such sadness, anxiety, or aggression that it seems at all out of control, please contact your health care provider right away. They may need to be educated about D-MER so be prepared to share this resource, a wonderful site created for women who suffer from this condition.
Podcast: Play in new window | Download | Embed
Subscribe: RSS