Jamie's Breastfeeding Story
In this podcast episode Barbara and Jessica talk to Jamie about her breastfeeding journey with her little one Zelda. Each breastfeeding story is very different and Jamie's is no exception. She struggled with unexpected infertility which made her story very different than she planned before getting pregnant.
Take a listen and enjoy!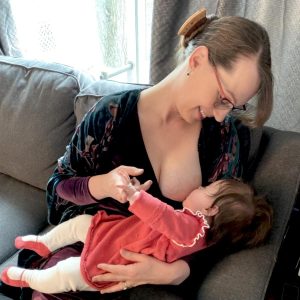 At The Breastfeeding Center of Ann Arbor we share family's breastfeeding stories because of all the miss-information about what actually happens while breastfeeding.
Either people have been told what a nightmare breastfeeding can be or how incredibly easy it is. For families, breastfeeding could be really easy or really hard, or most likely, somewhere in the middle! There is no one size fits all!
By sharing other family's experiences we hope to continue to normalize breastfeeding and help those families in the trenches of breastfeeding by letting them know they are not alone.
If you would like to share your breastfeeding story please email barbara@bfcaa.com. We would love to have you be part of our conversation!
If you are struggling with breastfeeding, you don't have to do it alone! We are often the 2nd, 3rd, 4th, even 5th, lactation consultants people have had to reach out to in order to find a resolution to their breastfeeding issue. We are here for you!
CCLS Training!
Finally, if you are a professional and would like more clinical training that specializes on how to effectively communicate with families, please see our CCLS course.
This 90 hour professional lactation course is offered in two weekends with 20 hours of pre-work that happens before each part. Our Early Bird Pricing ends soon but if you mention our podcast, that you heard about this from All Things Breastfeeding, we are happy to offer you a special price at any time! Just email barbara@bfcaa.com to find out more!
Podcast: Play in new window | Download | Embed
Subscribe: RSS