Having a new baby is confusing! So many questions. So many opinions! Let us help you if you are struggling with breastfeeding. We try to cut out the confusion, help moms feel more confident about their lives, and take the mystery out of breastfeeding.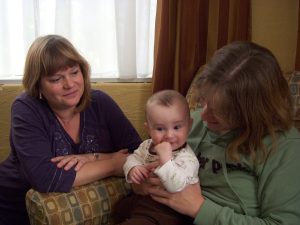 We strive to provide accurate breastfeeding information and emotional support so that a breastfeeding family can feel confident and successful.
At the Breastfeeding Center of Ann Arbor, we have been helping families with nursing since April of 2008.
We offer:
We want to support you! We are happy to offer lots of free support but remember, the rent must be paid!
Please think about supporting us! You could:
Buy and nursing bra or tank top (or both!)
Have a private consultation
Have a back to work consultation
Buy a breast pump or parts
Refer a friend
Tell your health care provider about us
Help keep us in business so we can keep helping you!
Out story: My name is Barbara Robertson, MA, IBCLC, and I have over 18 year experience supporting nursing moms and babies. Why do I do this? Well, 20 years ago, my son wasn't latching and I had no milk. With help and support, I was able to turn things totally around. If my family had not reached out for help, I didn't even know there was breastfeeding help, I would have been an exclusively formula feeding mama. My support group only meet once a month and that was not enough for me! To make sure moms have the chance to get out, I have created two, weekly breastfeeding groups and have a once a month working and breastfeeding group. I am also a well, um, hard to fit girl. I never had a good nursing bra. So, I try to have those available too! We are trying to provide everything a breastfeeding family might need or want.