Our new arrival is here! We have been creating a working and breastfeeding phone app, iLactate! For more information visit our web page or listen to our new podcast.
Notice: We will now be closed on Tuesday! Store hours: Monday, Wednesday, Friday, and Saturday from 12-4. Always happy to make a private bra fitting, pump sale, or consultation!
Our Mission:  The Breastfeeding Center of Ann Arbor helps mothers and babies reach their breastfeeding goals.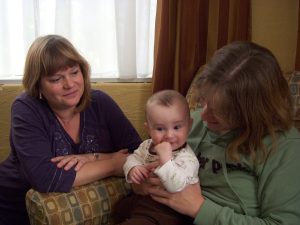 We are committed to providing accurate medical information and social/emotional support so that a breastfeeding family can reach their goals.
At the Breastfeeding Center of Ann Arbor, we have been helping families with nursing since April of 2008. Barbara D. Robertson, MA, IBCLC has over 17 year experience supporting moms and babies.
We offer:
Private consultations
Breastfeeding classes
Nursing bras, tanks, and pumps
Support groups
Professional trainings
Like our facebook page!
Our services include:
Private breastfeeding consults in our office, at home, in the hospital


"Lactation visits are a bargain when you consider the cost of not breastfeeding.  Your baby is worth the investment." Pat Lindsey, IBCLC