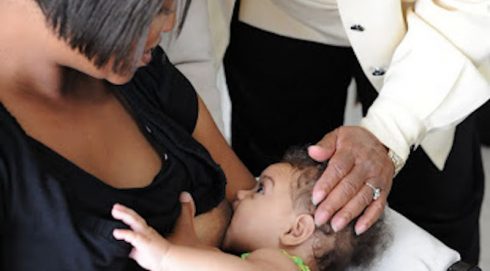 A certificate of completion will be provided at the end of the 90-hour lactation course. We offer a Clinical and Communication Lactation Specialist, CCLS, credential for those who complete our course. For most, this credential is considered a stepping-stone towards certification as an IBCLC and we encourage all of our students to apply for the IBLCE certification exam as soon as they are eligible. Nurses, doulas, dieticians, OTs, PTs, midwives and other health care providers may find this credential be helpful in their work and in finding employment. You can register here.
Read our blog and listen to our Zoom meeting for more information: https://bfcaa.com/how-to-become-an-ibclc/
This 90-hour course is comprehensive and designed to cover most aspects of the IBLCE Exam Blueprint. This will help you not only be prepared to offer mothers and babies quality breastfeeding support but will also help you to prepare for the IBLCE exam.
The course is offered in two parts. You may take each part separately or as one comprehensive course. In order to take Part 2 , you must have taken another 45 hour professional lactation course within the past 3 years.
Topics covered in Part 1:
Benefits of breastfeeding
Communication skills: Motivational Interviewing
Breast anatomy and development
Biochemistry of breastmilk
Birthing and breastfeeding
Mother and baby assessment
Breastfeeding assessment
When to supplement
Low breastmilk supply
Breast and nipple pain
And more...
Dates for Spring 2020:
Part 1
Pre-work: January 26th, 2020- 21 hours of pre-work assignments will open. Optional live webinars will be offered every other week for discussion of assignments and questions.
In-person: 3 Days 8:00 AM-5:30 PM-Friday, March 6 through Sunday, March 8, 2020- 25 hours of in-person clinical work
The goal for the pre-work is to about 3 hours per week which needs to be completed before the in-person portion of the course.
All the pre-work must be completed and turned in and all the in-person portion of the course must be attended in order for the participant to receive the CCLS Certificate of Completion.
Information about Part 2 is available here.
Cancellation Policy: A full refund minus a $75 cancellation fee will be provided upon request up to 45 days before the In-Person portion of Part 1 of the training begins OR until the time a participant submits at least one assignment for the pre-work section of Part 1 to be graded. To be clear, once a participant has turned in at least one assignment for the Pre-Work section, no matter how many days before the In-Person portion of Part 1 this is, no refunds will be issued. After either of these terms, no refunds will not be issued.
Transfer/Make-Up Policy: Should you need to transfer your registration to another training in the future when it is available, you may do so without penalty up until four weeks before a training begins. Once we are within four weeks of a training, we cannot guarantee you a spot in a future training but will accommodate you IF there is a training scheduled and the training is under-enrolled and we have a spot available for a $75 fee. In this case, you may receive very short notice of a make-up opportunity and should plan accordingly. Illness, family emergencies, last-minute babysitting or transportation challenges, and so on, are not our responsibility but we will make every reasonable effort to accommodate your situation.
Winter Storms. We will not issue refunds due to winter storms and other conditions beyond our control. Please allow plenty of extra time for travel if bad weather is threatening. If extreme blizzard or ice conditions coincide with the onset of a workshop and make driving hazardous, we may delay the start time or otherwise adapt the parameters of the training (check your email for updates). We will make every effort to accommodate everyone should conditions be extreme or impossible (this has never happened in 20 years, fingers crossed). If driving conditions become hazardous in the middle of a training weekend and you are driving back and forth a fair distance each day, you are welcome to bring some portable bedding/change of clothes and stay at the Center overnight. We have two couches and a queen-size air mattress on hand, as well as floor cushions, pillows and blankets. We cannot be held liable for airfare costs accrued due to circumstances beyond our control. 
Attendance Policy. In order to provide you with proof of having completed the CCLS certificate requirements, you will need to attend the course and complete all assignments in their entirety. Should you become ill or otherwise unable to complete a training you have started, the Transfer/Make-Up Policy (above) will apply.