The Breastfeeding Center of Ann Arbor and
Barbara Robertson, MA, IBCLC are proud to offer:
"Clinical and Communication Skills for Lactation Professionals:
What to say, How to say it, and When to say it"
Part 2 of a 90 Hour Course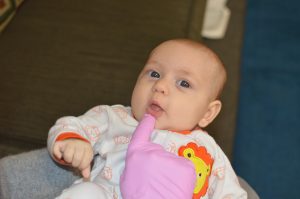 This course is normally offered in January and February of 2018. However, dates for 2018 are being changed due to teaching conflicts. Please email, barbara@bfcaa.com, if you are interested in taking this course in 2018. Thank you!

We help mothers to nurse by providing them with knowledge and skills they can use to improve their nursing relationship.
No technique will work unless the mother feels confident that she can use theses skills without our help.
Is becoming an IBCLC right for me?
Join us for a live TeleSeminar on Tuesday, November 28, 2017 at 7:30 pm (EST) to explore the answer to this question. Barbara D. Robertson will host a FREE Question & Answer session for anyone wanting to learn about becoming an IBCLC. We will start with the Top 5 Questions about Becoming an IBCLC and finish with Q&A from the audience. All you need is a phone and an hour of your time. Pre-registration is required. Email barbara@bfcaa.com.
You may take Part 1 individually or take Part 2 individually  if you have had a
45 hour professional breastfeeding course in the recent past.

2nd part of a 90 cerp Hour
5 Day Breastfeeding Course
Taught by Master Educator Barbara Robertson, MA, IBCLC
The course will be held at the
Center for the Childbearing Year Teaching Space
722 Brooks Street
Ann Arbor, MI48104
Payment options available when dates are announced:
Note:  Part 1 and Part 2 have separate charges!
Call Barbara, 734-975-6534 to register
or register online:
$1000.00 for Part 1 and 2!
Special offer
$595 for early registration available
Or in three easy payments of $240.00.
If you would like the three payments, option,
you may charge it on your credit card
and your last payment will be due the morning of
the first day of class.
You must let Barbara know you are coming in advance if you would like this payment plan option!
barbara@bfcaa.com or 734-975-6534.
Or you can mail a check made out to:
Breastfeeding Center of Ann Arbor
2595 Powell Ave, Ann Arbor, MI 48104
What is different about Barbara Robertson's new lactation course?
Everything!
We promise that you will not sit and just listen to
power point lectures for 45 hours.
This extremely interactive course focuses on utilizing techniques research has shown to be effective for adult learning.
In order to truly learn something, you have to use it in some way,
not just hear it.
We will do small group work, work with actual mothers and babies, role play, case studies, large group discussions, problem solving, and practice, practice, practice the skills we are using focusing on how to effectively communicate with our families.
With breastfeeding, social and emotional support are just as important as your technical knowledge.
Who is this course for?
Current IBCLCs who are preparing for the IBLCE exam
IBCLCs who need cerps for re-certification
Aspiring IBCLCs who are acquiring their breastfeeding education cerps. (Note:  We will be offering Part 1 of this course on January 24-28, 2018 for a complete, comprehensive 90 hour course.)
RNs who want to increase their breastfeeding skills or acquire 20+ hours of breastfeeding education for the "Baby Friendly" hospital initiative.

Doulas who are interested in being on the cutting edge of breastfeeding support
What participants are saying:
"Barbara was so energetic and devoted to breastfeeding that it made me motivated to learn as much as possible. I wish every doula was trained by her and every mother received her care." — Class Participant
"I feel more confident working with breastfeeding women, and will be a better observer and problem solver." — Class Participant
Tentative schedule:
Note:  Nightly home work is required.
Wednesday 8:00 am until 5:30 pm
Day One
Legal issues and HIPPA
Cultural concerns
Controversies in breastfeeding
Who's who in lactation?
How are our moms getting their breastfeeding information?
Breastfeeding problem solving-  Breast and nipple pain
Thursday 8 am until 5:30 pm
Day Two
Nutrition and breastfeeding
Working and breastfeeding

The mother
The work place
The child care provider

Breastfeeding problem solving-  Helping mothers return to work
Friday 8 am until 5:30 pm
Day Three
Working with mothers from the breastfeeding cafe
Adoptive breastfeeding and induced lactation
Infant anatomy and physiology
Breastfeeding problem solving-  Helping mothers and babies with latching and when babies won't latch
Saturday 8am until 5:30 pm
Day Four
Premature and near term babies
Breastfeeding multiplies
Nursing an older baby
Tandem nursing
When mother is sick
Medications and breastfeeding
Breastfeeding problem solving-  Helping to increase mother's breast milk
Sunday 8am until 5:30 pm
Day Five
Tools of our trade
How to write a Dr. report
Working within the hospital setting-  Baby Friendly
Working in Private Practice
Working in Public Health
When breastfeeding doesn't goes as planned
Providing hope for the second baby